Welcome to the Panerai Source
Ultimate Unofficial Panerai Resource
Welcome to the newest Unofficial Panerai Resource on the web, complete with tons of information on Modern and Pre-V Panerai watches in a easy-to-use format. Find everything you need here, and join the forums for some easy conversation and chat with fellow Panerai addicts! There are no vintage models currently on the site, but we may add them in the future. We are NOT affiliated with Officine Panerai in any way.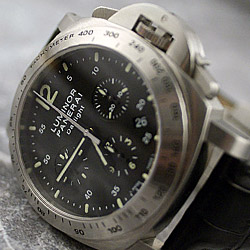 Site News & Updates
September 15th, 2015 - A new maker to the Panerai scene, but has been making straps for other watches for some time now: Jack Foster Straps. I have a couple brand new Panerai Straps from them that aren't even on their site yet, very nice and well-priced American Made straps from Horween Leather.
August 25th, 2015 - My second review of a Combat Straps Panerai Strap, this one is a Nubuck Alligator in Terracotta with beautifully finished edges and superb construction. Check out my latest Combat Straps review here.
August 1st, 2015 - New strap review of a few from a newer Finnish company, Punavuoren Ranneke, that specializes in some very interesting straps including ones made by Female Prisoners in a particular prison in Finland!

If you have taken Panerai photos that you'd be willing to let me use on the site, I would be very grateful if you would send them to me!
Remember to Join the Forum!
Please join the forum! Together we can make this the premier place to discuss Panerai watches. No drama, just good times. A place where you don't need a lot of moderation because we all try to act like adults!
Feel free to email me corrections to the information listed here, or to help out with some pics!