Welcome to the Panerai Source
Ultimate Unofficial Panerai Resource
Welcome to the newest Unofficial Panerai Resource on the web, complete with tons of information on Modern and Pre-V Panerai watches in a easy-to-use format. Find everything you need here, and join the forums for some easy conversation and chat with fellow Panerai addicts! There are no vintage models currently on the site, but we may add them in the future. We are NOT affiliated with Officine Panerai in any way.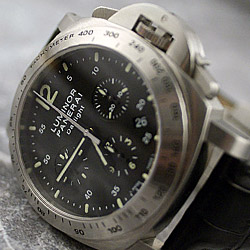 Site News & Updates
November 28th, 2013 - A new strap review from boutique strap house Zirdiva, featuring two of their trademark styles. These guys are producing a very unique product - take a look! September 29th, 2013 - Just posted a new strap review from French Strapmaker Attirail! French flair and craftsmanship for what I would consider entry level pricing. Very very good value here guys - Check out the Attirail Strap Review.
If you have taken Panerai photos that you'd be willing to let me use on the site, I would be very grateful if you would send them to me!
Remember to Join the Forum!
Please join the forum! Together we can make this the premier place to discuss Panerai watches. No drama, just good times. A place where you don't need a lot of moderation because we all try to act like adults!
Feel free to email me corrections to the information listed here, or to help out with some pics!