Aftermarket Panerai Straps Review
DaLuca Straps Review #4
DaLuca Panerai Straps
Origin: USA
Construction: Hand-Stitched
Materials: New and Vintage Leathers
Buckles & Tubes: Buckles And Tubes Included
Price Range: $60-300
Website: Click Here
Date of Review: Apr 29th, 2020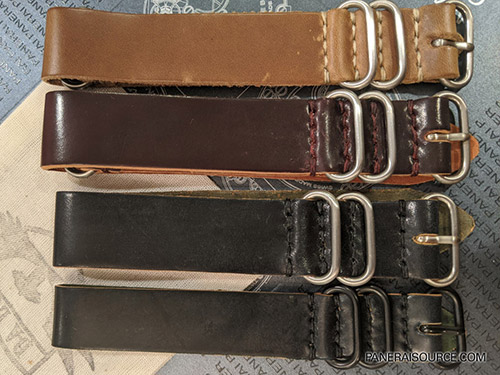 I felt it was time to revisit the DaLuca Military strap, so here I am with another review of their solid Military (previously NATO) Leather watch straps. The straps still come in two varieties, 1 piece and the traditional 2 piece I guess you would call it. I've got two of the 1-piece here and two of the traditional 2-piece so hopefully you can get a good idea of both options from my review. I'm planning to review these straps without looking at my original review from 7 years ago so I can review them without any bias from what I previously wrote. Hopefully this gives you a slightly more authentic and honest review!
Without further ado, here they are. Lets start with the Chromexcel Natural 2-Piece 24mm strap: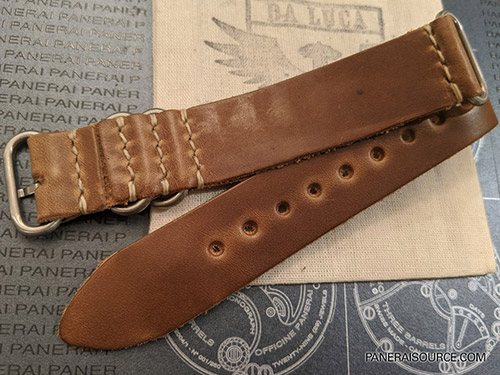 Beautiful Horween Chromexcel leather, which is a pull-up style leather, has such a great color and hand to it. I really love this stuff. It has so much character and changes and ages so gracefully with each bend. My only complaint with this leather is its use in an unsewn Nato strap. The Chromexcel leather tends to stretch a bit and even when you pull on it a bit it lengthens. This particular piece is a bit thicker and stretches less, but I have used a couple of these in the past and they have always stretched at least a couple hole sizes in use. Eventually the stretching does stop, but I would prefer a leather that doesn't strethc. Having said that, the stretch gives it some character and the leather changes color a bit where it stretches and you can see some patina develop.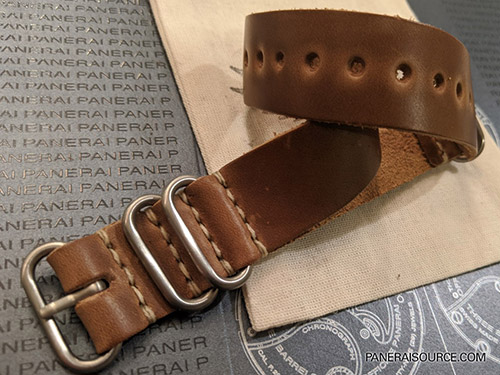 The Horween Natural Chromexcel is a beautiful milk chocolatey brown, with a nice lighter shade where the stretch happens. You cacn see some of it above around the hole punches. The stitching is a natural ecru sort of color that blends well with the leather, stitched across and double looped on the ends. Hardware is good quality satin finished steel. Next lets look at the same strap in a Horween Shell Cordovan Color 8.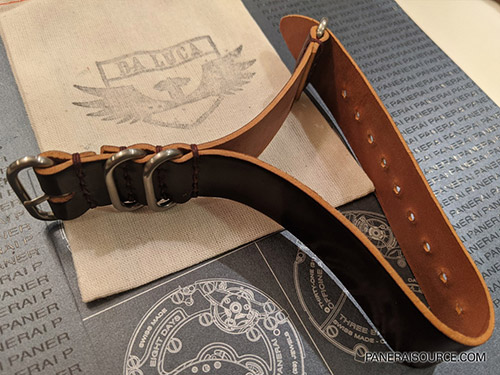 Shell Corodovan Color 8 is deep brownish burgundy color that has become the iconic color for Shell Cordovan leather. In fact, a lot of clothing and shoes are called "Cordovan" color when they share the same burgundy/brown color so the Shell Cordovan has almost become synonomous with Color 8. This straps shares the same 24mm width and two-piece construction as the last strap, but because it is made from Shell Cordovan leather it does not stretch nearly as much.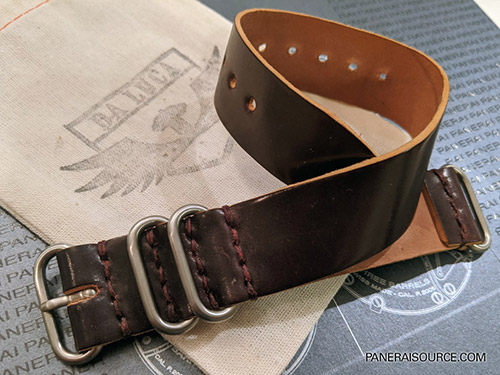 Its always cool when you get a piece of the Shell Cordovan that has the stamp on the back. This one does not have it but the next two do! Also, if you guys are not familiar with how a NATO strap is worn on a watch, please see this video from DaLuca straps on Youtube. The stitching used on this strap is a matching burgundy and looks quite nice. I'd like to see what a stitching color that matches the backside leather looks like too. Now lets look at the 1-piece Black Shell Cordovan strap.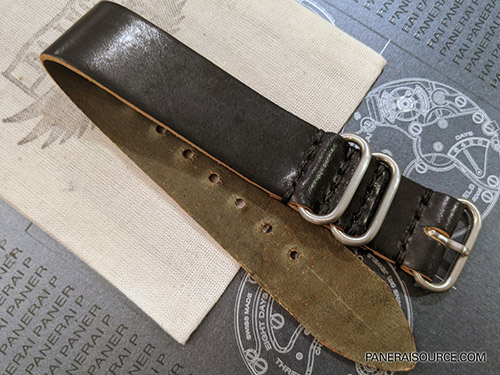 They say once you go black... :) But the black is pretty nice! This strap also has the Horween Shell Cordovan stamping visible on the back which looks pretty awesome! I always look for the stamp when I get a piece made with Horween Shell. So onto the strap itself.. the one piece strap is actually more versatile than the two-peice because it works with all sizes of watch heads whereas the two-piece occasionaly has some fitment problems. Also sometimes the extra keeper on the two-piece can sometimes rub against the bottom lugs of a watch depending on the size and that bugs me too. As for the look, I think I generally prefer the look of the two-piece, even though the one-piece is overall more usable.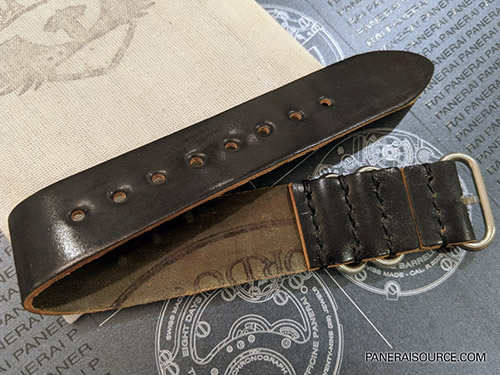 I'm rocking a two-piece black strap like this one on my Big Pilot, and it looks fantastic. I realy love the look of these on pilot watches, but for Panerai I prefer the look of the single NATO strap a bit better. Check out this badboy on my Panerai PAM653!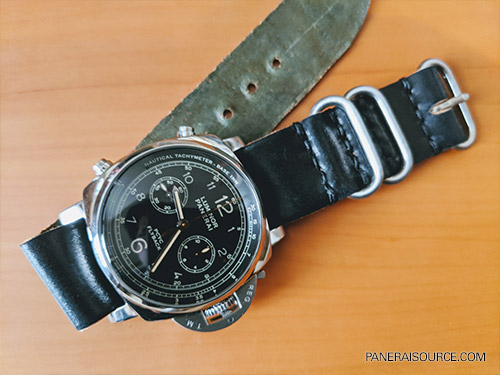 Beautiful strap on a beautiful watch. On to the next one, which is a 20mm one-piece NATO with the PVD Hardware: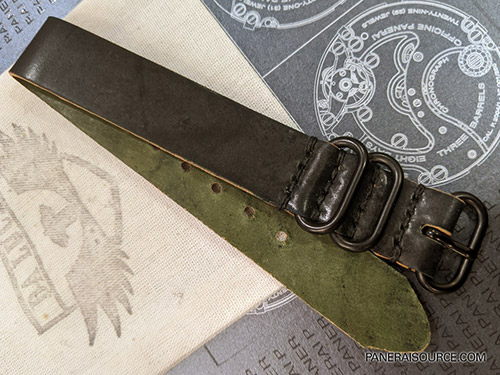 This one is pretty cool, and its always great to have the option of PVD hardware, even if its not going on a PVD, Carbon or Ceramic watch. Sometimes the PVD is just more discreet and looks better with certain watches since there is so much hardware with these NATO style straps, especially the two-piece. Same strap as the last, so there isn't to much to say but again the Shell Cordovan is a great leather that doesn't stretch, and has a fantastic aroma to it. One of the funny things about Shell is that it develops a white residue or film on it if it hasn't been handled or worn in a while. Not to worry, this is by product of the tanning process and is just some of the tallow or fats coming out of the leather over time. You can simply brush it of with a cloth.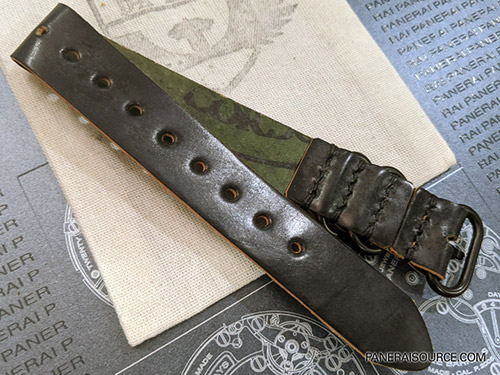 The back of this second strap looks much more green than the previous strap which is not the case in person... it must be the lighting or something. The 20mm strap is great for regular sized Pilot watches since most of those are 20mm lug width and you can get it in all the different hardware finishes with Bronze even available for certain sizes.
Overall these are great Military NATO style straps from DaLuca Straps, and I highly recommend the Shell Cordovan. It is a more robust leather and stretches less than the other options making it ideal for this type of strap. DaLuca has very reasonable pricing as well with the occasional promotion as well so keep your eyes out for those!
As reviewed:

Military Watch Strap Chromexcel Natural
Length: 300mm
Width: 24mm
Buckle Finish: Matte
Price: $79.99US

Military Watch Strap Horween Shell Cordovan Color 8
Length: 300mm
Width: 24mm
Buckle Finish: Matte
Price: $124.99US

Military Watch Strap 1 Piece Horween Shell Cordovan Black
Length: 300mm
Width: 24mm
Buckle Finish: Matte
Price: $119.99US

Military Watch Strap 1 Piece Horween Shell Cordovan Black
Length: 300mm
Width: 20mm
Buckle Finish: PVD
Price: $124.99US