Aftermarket Panerai Strap Review
Lac Crado Straps Review
Lac Crado Straps Panerai Straps
Origin: Singapore
Construction: Hand and Machine Stitched
Materials: Alligator/Crocodile Leathers
Buckles & Tubes: Buckles Extra
Price Range: $69-169
Website: Click Here
Date of Review: July 27th, 2016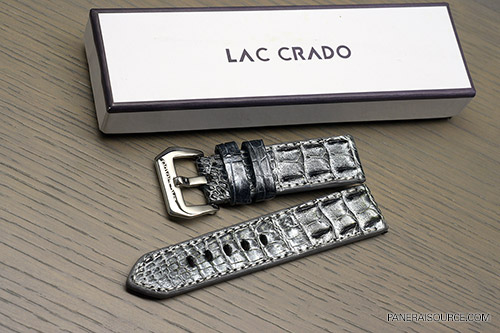 Lac Crado is a strapmaker based in Singapore that produces primarily Alligator and Crocodile straps, though they do a lot of Python as well as some less exotic stuff as well. Due to Etsy listing rules, however, there are no Alligator or Crocodile straps in their Etsy store but only on their website.
The strap I'm reviewing is the Silver Double Hornback Crocodile, which is a pretty spectacular looking strap. I guarantee everyone will notice this strap on your wrist! While its a pretty loud strap, it does have fairly conservative general construction and comes off like a fashion-forward Italian styled strap in my opnion... something that would go hand-in-hand with a pair of Giuseppe Zanotti sneakers.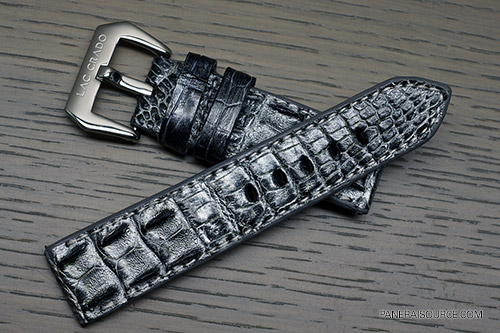 The silver is done very well in my opinion and really does looks like its naturally infused into the leather like a high-end handbag. One little error they made was that it shipped with a 24mm buckle, but the strap tapers to a 22mm at the buckle side so there is a gap on the buckle. I will have to replace it with a proper 22mm non-branded buckle I have kicking around.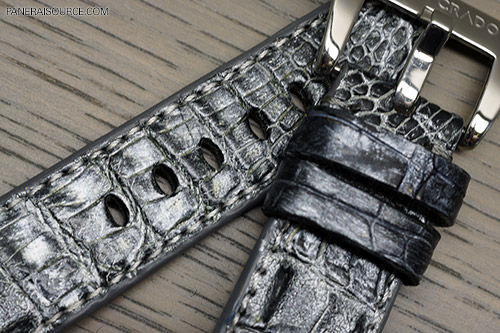 Here's a close-up of the hornback croc and that metallic silver finish. Its a very nice hide, with little to no imperfections. The thread is a white, and machine-sewn. The strap itself is very flexible and wears really well. The back is a sort of matching grey leather that compliments the strap nicely. The strap also features double keepers - one fixed and one floating.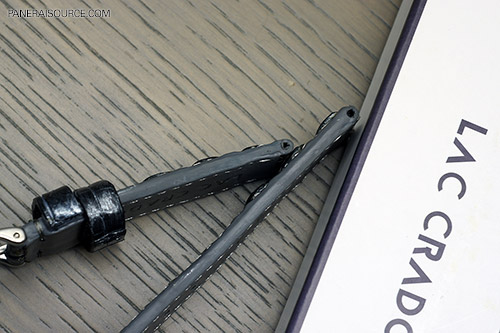 The sides are a painted grey finish that almost perfectly match the grey leather backing, which is a nice touch. I think the combination works really well with the metallic silver. The thickness of the strap sort of tapers from the double-hornback part to the smaller scaled end, but I don't think its padded, its just due to the thicker nature of the hornback portion.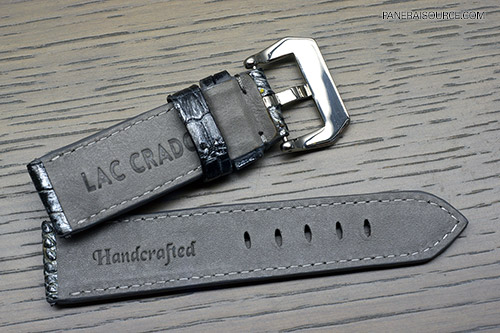 The back of the strap is stamped with the Lac Crado logo on the short end, and 'Handcrafted' on the long end. These handcrafted straps are nicely made, and are certainly unique in their design. The bold styling will attact our more fashion forward readers here, but for the rest of us they do have much plainer designs. However, they do specialize in exotic hides and materials so if you're in the market for Snake or Alligator, Lac Crado might be a good choice for you.
Strap As Reviewed:
Model: Handmade HQ Silver Double Hornback
Length: 125/75mm
Thickness: 4-5mm With Horns
Keeper Type: 1 Fixed, 1 Floating
Stitch Color: White
Edge Finish: Painted
Price: $169